Third Time Volunteering Abroad with Venture 2 Impact in February of 2017. I'm going to tell you why I keep volunteering  abroad with Venture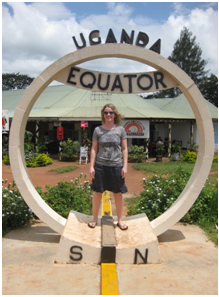 2 Impact
Three years ago, I'd recently moved across the country to Seattle, WA and was game for new adventures.  I was looking for a creative way to leverage a Volunteer Time Off (VTO) benefit from Salesforce.  I love to travel to experience different places/cultures and thought it would be interesting to see how I could help folks away from home.  I have some back troubles, so building a house or other intense physical activities felt off-limits.  Surely there's still some value I could add, right?  I was having a hallway chat with a co-worker and learned about an opportunity to travel to Uganda with Venture 2 Impact.  The focus of the trip was understanding the challenges the people in the Tabiro village faced and how we could lend a hand in a sustainable way.  I had no idea what I was really signing up for.  With a leap of faith, I was in!
Uganda (2014)
Wow, I really did NOT know I was I getting myself into…in a good way.  I learned a lot more about myself than I expected.  The time spent in the village and interacting with people and kids is hard to describe.  Everyone was so welcoming and gracious.  It is quite apparent how difficult life is and how few options many people truly have.  It was fantastic to travel with Venture 2 Impact as they take care of ALL the details – flights, accommodations, transportation, meals – everything!  It lets you fully immerse yourself in the experience and focus on people & culture instead of logistics.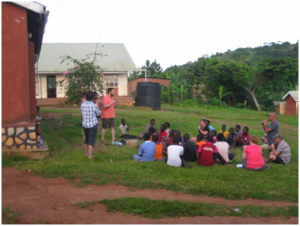 We spent time doing music classes, photography classes, and computer lessons (when there was power). It was amazing how excited and responsive the kids were to a simple penny whistle. Their ability to grasp photography concepts and quickly take excellent digital photos was impressive!
During the trip, Venture 2 Impact led us through different thought exercises and discussions to process what we saw & felt and – more importantly – think critically about how we could help in a way that the community can sustain on their own.  Ron, one of the leaders, gave some great advice to us all (paraphrasing):
My hope is that you find your heart.  Find what matters to you and how you can help in a way meaningful to you – whether here, at home or elsewhere.
Great advice from a great leader.  The trip magnified my love of animals and I found a local organization that focuses on dogs to volunteer with when I got back.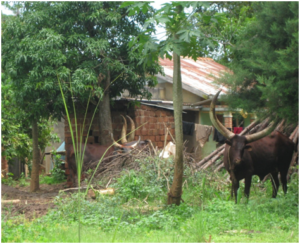 Ecuador (2016)
After taking 2015 off from travel for health reasons, I was excited to join Ron & Fadi again in a different location – a remote village along the Onzole River in Ecuador.  I've gone on one of these trips so I know roughly what I'm getting into, right?  Wrong!  Some things were the same, such as the kindness, generosity, forgiveness by locals for terrible language skills and great care Ron & Fadi take to make the trip a good experience for all.  The openness of the fellow travelers on the trip and frank conversations were also a part of this trip.  However, the culture was vert different.  The trip was hard work and filled with a lot of emotion.  Another difference was that we were completely disconnected from the outside world.  We had power maybe 50% of the time but no internet or cell service.  Spending my day-to-day at a tech company made me cherish the peacefulness of fully disconnecting.  It's amazing how well you can get to know people when you have no distractions…except for cards.  Lots of cards!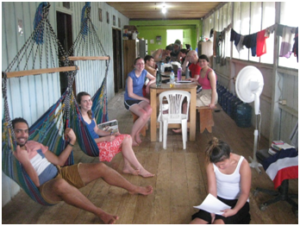 While in the Santo Domingo village, we spent time teaching English and running sports camps in two villages.  Before we started in on that, we spent a day-in-the-life with a host family.  It was a great way to level set on how little we outsiders really know and are capable of in this setting ☺  Men went to the farm and women spent time in the home.  What an unforgettable day.  My host mother, Ruth, was so kind & patient – despite my small amount of Spanish and inability to match her strength on chores.  While instructing me and getting her work done, she was always looking out for me as well.  While doing laundry in the river, she was concerned I might fall off the steps, so she had an arm around me while we beat the laundry with a paddle!  (which required a hard swing with a wooden paddle about 10 times per garment.  Good workout!)  Getting a small glimpse of her life was a unique, eye-opening experience.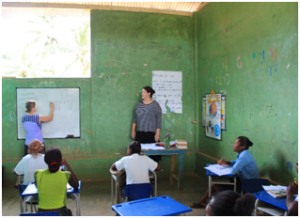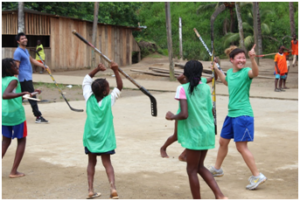 I think my favorite memory of Ruth was when me and another girl joined her family for dinner later in the week.  We brought balloons and she blew one up and batted it around for her toddler – "Mira!, Mira!, Mira!, Mira!", she said. (Mira = look)  The smile & light in her eyes while entertaining her baby was priceless.  And all it took was a simple dollar store balloon.  Despite incomplete Spanish, we still learned a lot about Ruth & her family and were able to communicate throughout dinner.
Ecuador was harder, hotter, longer, more emotional and less comfortable than the Uganda trip I joined.  With that description, you might be surprised to learn that I'm joining a third trip to Indonesia in 2017!  Here's my personal takeaways from my first two experiences and why I'm excited for the third:
I feel gratitude for all the luxury of choice in my own life and kindness of the communities I have visited.  I have freedom and means to do virtually anything I want.  Few are that lucky and it's something to never take for granted.  When visiting these communities, the kindness and generosity of the folks in the communities is overwhelming.  The communities are strong and overall much kinder than people you often interact with in everyday life!  It's striking to think that

most

of the world lives in conditions more like these places than my everyday life in America.  Feeling like you don't live in the same reality as most of the World made me feel a bit like I'm in the movie

The Matrix

when I come home.

These trips have made me a kinder, more patient & considerate person.  Giving back isn't a week-long initiative, and you can continue to apply things you've learned in your everyday life.  As Ron has said, 'You aren't going to change the world in a week'.  True, but it's exciting to see how a week

can

change you.  Also, you never know how your interactions with people you go to help with shape their view & life.  Small things can make a big difference to individuals.
I'm joining another trip because I think I have more self-exploration to do and more capacity to help others.  While I'm on that personal journey, I'm excited to continue exploring different cultures and giving back at least a little while I do it.  The trips are hard, but if you don't push yourself outside of your comfort zone, how will you grow and find your limits?  Venture 2 Impact's investment in the communities and the volunteers makes them amazing to work with.  I love their focus on helping communities with sustainable ways to improve life – creating a culture where we can help but also let the communities own it.
I hope I can give back just a little of what others have given me along the way as I continue to explore my personal journey through life.  Indonesia, here I come!