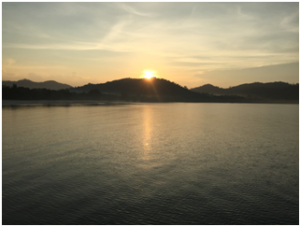 Every snap of my camera produced a picture worthy of a postcard.
When I first learned about Venture2Impact's plans to visit the islands of Batam Riau, Indonesia to explore the potential for a partnership with the eco-resort Telunas, I decided, on the spot, I was in. What an opportunity. I believe in volunteering, in contributing in any way I am able, to help make our community, city, country, and indeed globe, a tiny bit better. In fact, I have been a volunteer for one cause or another for most of my adult life. Having had the absolute fortune to be born and live in the beautiful east coast of Canada, I always felt an obligation and a desire to give back to those who maybe weren't so lucky. To me, this trip made total sense: I like to travel, I love to volunteer, I have the means, and now I have the opportunity. Why not?
Of course "thinking" and "doing" are two very different things. As the planning and fundraising began, doubts started to creep into my head…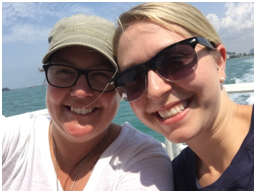 Me (left) and my awesome travel mate Kailynn
Can I manage the 32 hours of flying required to get there? Indonesia is 11 hours away from my time zone. Jet lag to the max. And it's hot In Indonesia. Like, really hot. As I write this, the current temperature is 31C. Middle-aged women suffering from hot flashes likely should not be visiting very hot locations.
Am I fit enough? The schedule includes a 5 km hike through the jungle to get to a waterfall. I can walk 5 kms easily here, at home, on a nice paved trail, in the cool spring air. But walking through a jungle? And then having to walk those same 5 kms to get back? Can my arthritic big toe handle that? And what? There's more? We'll stay in a home in a remote village for a night and will likely have to sleep on a floor? Gracious. Forget about my arthritic big toe, can my 50 year old back handle that?
Physical stamina aside…am I smart enough? Will I be able to deliver on what's going to be expected of me? Venture2Impact's mandate is to create impactful change for people living in extreme poverty. Hmm. "Impactful change." This means more than helping to clean a beach or donating a bit of money. This is big thinking stuff. This requires levels of knowledge and experience that I simply do not have. Surely I can't comprehend the challenges these people face daily: Corrupt governments, limited access to education and opportunities, as well as living in extreme poverty—let alone come up with viable solutions…?
Those were the thoughts swirling around in my head as I packed and headed out to the other side of the world.
Four flights (the longest being 16 hours in the air), a night in Singapore and a ferry to Batam later,  we were in Indonesia. The kind folks from Telunas met us at the ferry terminal and we jumped on a boat for an hour ride that took us to the beautiful eco-resort.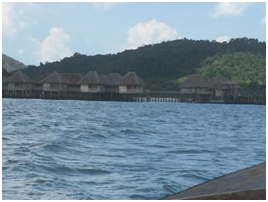 My first sighting of Telunas Resort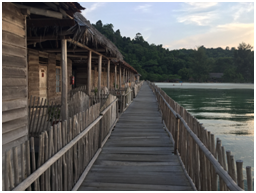 The walkway to the beach at Telunas
The week consisted of visits to local islands. Indonesia is made up of a group of about 18,000 islands (900 or so with permanent residents), only about half of which are named. This gave us a chance to meet the people, see how they live, and really get a feel for each community. We took part in a few projects: Built a concrete wall, created signage for homes in isolated communities, ran an art class for school children, and built a structure that enabled children to wash their hands and brush their teeth at their school (which had no running water).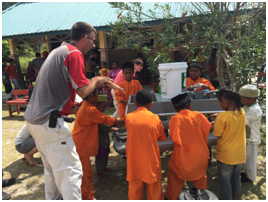 Bruce the dentist, showing the children how to properly wash their hands
Turns out, I really had nothing to worry about. Yes, the flight was long (a reminder here: When you are on a plane for a long time, get up often and walk. Keep your feet and legs moving as much as possible. Swollen ankles are very disconcerting to say the least). And yes, it was hot (a hand-held paper fan will be your new best friend). I actually WAS fit enough (lots of rest breaks and lots of water). And no, I am NOT smart enough to solve an entire country's problems (more on that later).
I learned that there are very special people all over this planet. The people of Indonesia are sweet, polite, kind, and love their families. They don't have much, but they have each other, and they support, love, and enjoy each other very much. Their children are cherished, and community members all share the responsibilities of raising their children. It's a throwback to the way we imagine Canada used to be, before the days of watching your children every moment of every day and over-scheduling their precious, fleeting growing-up years.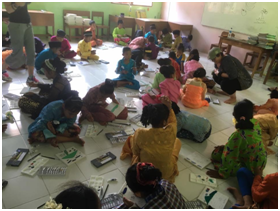 Art class
I learned angels really do exist. People who choose to leave their comfortable homes in developed nations to spend their lives with those in need are so very special. They should be adorned with crowns of jewels and given all the riches of the world. But they would not take it, as it would mean taking time away from their true calling, helping others. Some of the people I met there have become my very favourite people on the planet. I'm looking at you, Bruce, and you too Elizabeth, Eric, Ron, and Fadi.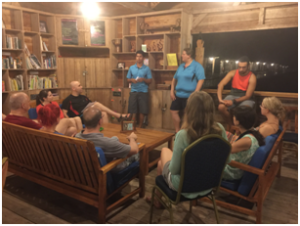 A group chat, wonderful learning going on here
I leaned that one's idea of poverty can vary wildly from another's idea of poverty. Just because you have a big TV doesn't mean you are rich, and just because you have no shoes doesn't mean you are poor.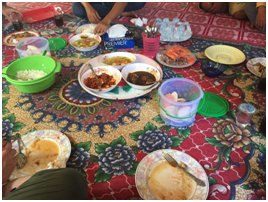 A wonderfully tasty lunch at a private home
Most significantly for me, I learned that I do not have to solve all the problems myself. All I have to do is show up: Be present, be open, listen, and learn. There is not ONE person that can solve all the world's problems.
Thanks to an excellent chat with Venture2Impact's co-founder Fadi Al Qassar, I learned that if we all contribute just a little bit, each tiny contribution adds up to larger, more impactful contributions. I can commit to that: A tiny contribution, a drop in the bucket. The bucket will eventually fill and then, my friends, that impact—and change—will happen.